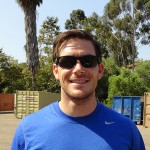 Clint Callanan has been accepted into the SIT Study Abroad program for the summer of 2014: 'Nepal: Geoscience in the Himalaya'.
Clint will engage in classic field geologic skill development and innovative inquiry of human-Earth systems. The program focuses on field geoscience, geohazards, and environmental science in the context of human interactions and sustainable development in Nepal. He will explore a range of Nepal's astonishingly varied landscapes: lowland hills, fertile valleys, deep gorges, rain-soaked jungles, towering icy peaks, arid steppes, and waterfalls. While witnessing the power of active tectonics that underpins the development of the tallest mountain range on Earth, the extremely varied climate zones within a small area, and the myriad geohazards that face the region.
Over the seven week program Clint will take three course spending 135 hours of instruction time earning 9 units in Earth Science Field Methods, Geohazards in the Himalaya, and the final Geology Field Study Project.