The BA in Geological Sciences degree is designed for students who seek a degree based in the foundational principles of geological and earth sciences. The degree focuses on the application of foundational aspects of geological and earth systems science toward a variety of disciplines and leverages the socially relevant aspects of the science. The degree includes a broad spectrum of courses that integrates information about the earth and how society makes decisions that affect or are affected by earth systems.
The degree meets the requirements if the California Community College Associate in Science (AS-T) in Geology for transfer students completing the Transfer Model Curriculum.
Degree Learning Outcomes for the BA in Geological Sciences are as follows:
1. Interpret the age of sedimentary rocks using common fossil taxa
2. Integrate sedimentological and stratigraphic data
3. Integrate diverse physical and structural data
4. Apply appropriate physical and technical principles
5. Identify and understand minerals and rocks
6. Integrate chemical data
7. Construct accurate and interpretive maps
8. Communivate results via written and oral reports
9. Apply the scientific method
10. Interpret and integrate diverse geoscientific data
BA Curriculum Map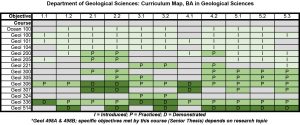 Major Academic Plans (MAPs)

Visit http://www.sdsu.edu/mymap for the recommended courses needed to fulfill your major requirements. The MAPs Web site was created to help students navigate the course requirements for their majors and to identify which General Education course will also fulfill a major preparation course requirement.