Geophysics
Earthquake Science and Applied Geophysics
Joint Doctoral Program
A new, challenging program of graduate study leading to a Joint Ph. D. in Geophysics has been initiated by the University of California, San Diego, Scripps Institution of Oceanography and San Diego State University.
THE PROGRAM
A joint graduate group from the Geophysics Program of Scripps Institution of Oceanography at the University of California, San Diego (UCSD) and the Department of Geological Sciences at San Diego State University (SDSU)  offers a Joint Doctoral Program in Geophysics. The complementary specialties and ongoing, vigorous collaborations between the two groups result in two focus areas: earthquake science and applied geophysics. Integrating geophysics at UCSD and SDSU will provide outstanding opportunities for students to develop the skills needed to address important local, regional, and global societal problems where geophysics can contribute to the solutions. Strong capabilities will be in:
earthquake-hazard investigations (incorporating tools such as observational and computational seismology, airborne and satellite-based geodesy and remote sensing, and earthquake geology), and
energy, resource, and environmental exploration methods (mainly land and marine seismology and electromagnetics).
Graduates of the program will be prepared to begin rewarding geophysics careers and assume leadership roles as university faculty, government scientists, and industry researchers. Joint UCSD and SDSU committees will administer and monitor the admission, advising, evaluation, graduation, and all other academic processes related to the joint doctoral program. Students will spend at least one academic year of residency at each campus. A Doctor of Philosophy (Ph. D.) degree in Geophysics will be awarded upon completion of the program in the names of The Regents of the University of California on behalf of the UCSD and The Trustees of the California State University on behalf of SDSU.
Current and past JDP student success
THE COMMUNITY
Scripps Institution of Oceanography at UCSD is located on the Pacific Ocean in La Jolla, California 24 kilometers from SDSU which is 19 kilometers east of downtown San Diego. San Diego enjoys a reputation for a highly desirable climate and life style. There are major cultural attractions such as music, dance, and theater performances and galleries exhibiting all types of visual works of art. San Diego is also well-known for its museums, theme parks, and a world-class zoo. Major spectator and participant sports abound at both the professional and amateur levels. The near-by ocean, mountains, and deserts provide an unusually diverse variety of yearround outdoor activities.
THE UNIVERSITIES
More than 33,000 students make SDSU one of the largest schools in the 23-campus California State University System. SDSU is unique within the system because of its large research effort and 16 joint doctoral programs. SDSU was ranked the number one small research university in the nation by Academics Analytics using the faculty scholarly productivity (FSP) index. This index ranks UCSD as 11th in the large research university category. UCSD has over 22,000 students and ranked 7th in the 2008 U. S. News and World Report ratings of the country's top public national universities; within the geophysics and seismology specialty, the UCSD Scripps program ranked 5th overall.
FINANCIAL SUPPORT
Annual stipends will be provided for all joint Ph. D. students, as will be the full cost of tuition. Students will also receive complete health benefit packages.
APPLICATION
Applications are accepted fall of every year, October 1st to December 1st.  Application Details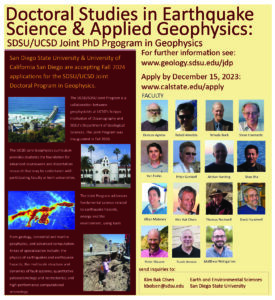 Prospective students are encouraged to send their inquiries to: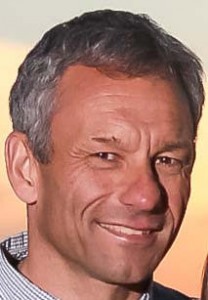 Kim Bak Olsen
Department of Geological Sciences
San Diego State University
San Diego, CA 92182-1020
kbolsen@mail.sdsu.edu