The Department of Geological Sciences at San Diego State University (SDSU) invites applications for a tenure-track faculty position in seismic stratigraphy or a related field. Candidates who specialize in imaging techniques applied to sedimentary systems are of particular interest, but we seek applicants from any relevant area of focus who will complement our strengths in geological and geophysical modeling as well as neotectonics, hydrology and petroleum geology. The successful candidate will demonstrate the ability to develop an innovative and robust externally-funded research program, and to effectively teach and mentor students at the undergraduate, master, and doctoral level through our Joint Doctoral Program (JDP) in Earthquake Science and Applied Geophysics with the University of California at San Diego (UCSD). He/she will be expected to teach an undergraduate sedimentology and stratigraphy course, general-education courses, as well as advanced graduate courses in his/her area of specialization. This position is expected to be filled at the Assistant Professor level. A Ph.D. in Earth Sciences or a related field is required at the time of appointment, and post-doctoral experience is preferred.
Applications should be submitted to: Search Committee, Dept. of Geological Sciences, San Diego State University, 5500 Campanile, San Diego CA 92182-1020 or alternatively to geosearch@mail.sdsu.edu; the materials should include curriculum vitae, descriptions of future research plans and teaching statements, and the names and contact information of three references. Review of applications will begin on November 1, 2013, and will continue until the position is filled.
SDSU is an equal opportunity employer and does not discriminate against persons on the basis of race, religion, national origin, sexual orientation, gender, gender identity and expression, marital status, age, disability, pregnancy, medical condition, or covered veteran status.
The person holding this position is considered a "mandated reporter" under the California Child Abuse and Neglect Reporting Act and is required to comply with the requirements set forth in CSU Executive Order 1083 as a condition of employment.
Tenure-Track Position in Seismic Stratigraphy
VPAA 2014/15 – 49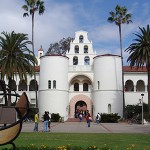 The University
Since it was founded in 1897, San Diego State University has grown to offer bachelor's degrees in 84 areas, master's degrees in 76 areas and doctorates in 21 areas. SDSU's approximately 31,000 students participate in an academic curriculum distinguished by direct contact with faculty and an increasing international emphasis that prepares them for a global future. SDSU's annual economic impact to the state of California is $6.5 billion. Of SDSU's 270,000-plus alumni, approximately 60 percent live in San Diego. They comprise more than half the region's engineers, teachers, entrepreneurs and the local workforce for a host of other industries.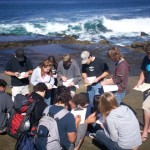 The College
SDSU's College of Sciences is the region's largest center for science education and research. Comprising eight departments and various specialties, our College offers bachelor's, master's and doctoral degrees, as well as curricula for pre-professional students in medicine, veterinary medicine, and dentistry. Our coursework is enhanced by research centers that provide our students with real-world experience and seminars given by notable leaders in the field. We also maintain off-campus sites at the Mt. Laguna Observatory, Coastal Waters Laboratory, and nearly 9,000 acres comprising four biological sciences research stations. Our faculty remain leaders in their disciplines through their research, enabling our students to benefit from both practical classroom instruction, as well as hands-on laboratory work with our professors. The College of Sciences strives to produce scientifically educated graduates who possess both a fundamental understanding of their fields and the essential professional skills needed by local and regional industries. The College also contributes to the training of future mathematics and science teachers, and provides general education courses to ensure the scientific literary of all SDSU graduates. http://www.sci.sdsu.edu/cos/cosabout.php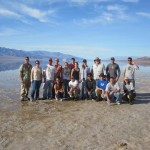 The Department
For more than 75 years, the Department has provided outstanding educational opportunities for students leading to successful careers in government, business, industry and teaching. Water, energy and natural resources are at the forefront of societal concerns, and the Department's General Education courses serve thousands of students each year helping to provide the country with an environmentally responsible and scientifically literate electorate. The Bachelors of Science degree options are based on an advanced academic core curriculum distinguished by a senior thesis requirement that promotes a collaborative student-faculty atmosphere and prepares students for top graduate school programs. The Masters of Science program is likewise one of the most successful in the country preparing students for high trajectory career paths as well as more advanced academic studies. The Joint Doctoral Program with Scripps Institution of Oceanography at UCSD in Geophysics is focused on earthquake science and applied geophysics. Graduates of the JDP will be prepared to assume leadership roles in universities, government, and industry! Applicants are encouraged to explore the department website https://earth.sdsu.edu/ for additional information.