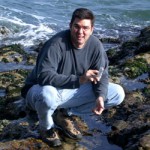 Professor Stephen Schellenberg is an organizer and instructor for the international Urbino Summer School in Paleoclimatology (USSP), which has received NSF funding through SDSU in recent years. This summer, the USSP produced this video to celebrate their 10th anniversary.
The USSP program focuses on the history and dynamics of climate, with special emphasis on the carbon cycle and its implications for understanding present and future climates. The intensive graduate-level three-week program includes lectures, symposia, field work, and data investigations designed to promote integration of the diverse components of paleoclimatology including biogeochemical cycling, paleoceanography, and climate modeling. These techniques and systems are explored through interactive discussions of Cretaceous Oceanic Anoxic Events, various Paleogene hyperthermal events, the Eocene-Oligocene Greenhouse-Icehouse transition, and Neogene and Quaternary climate dynamics.
Planning is underway for the 2014 USSP, which will involve ~20 disciplinary experts and ~65 graduate students and industry professionals from around the world.