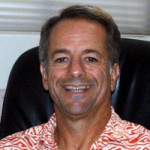 There will be a County Board of Supervisors Hearing on Tuesday, March 11, 2014 at 9:00 a.m. for a County Proclamation to honor Dr. David Huntley by Supervisor Dianne Jacob.  Dr. Huntley is being recognized for his work over the past 30 years as the backbone of technical expertise for the County's groundwater regulations and various groundwater technical issues.  This includes countless hours of voluntary time through publishing technical papers, providing technical support, and attending countless meetings through the years.
The meeting is open to the public and will be held at the San Diego County Administrative Building at 1600 Pacific Highway, Room 305 (3rd floor).  Parking is available in a public underground parking structure on West Ash Street south of the building.  Please intend on coming to the meeting at least 15 to 30 minutes early as it will take probably 10 to 15 minutes to park and get to the hearing room.
Immediately after the Proclamation (likely around 9:30 or 9:45), all are welcome to spend some time with Dr. Huntley at Cone Pane Rustic Breads & Café at Liberty Station in Point Loma.  The address is 2750 Dewey Road, Suite 105, San Diego, CA 92106.