ANNUAL BANQUET – APRIL 18, 2014
sponsored by
SDSU GEOLOGY ALUMNI ASSOCIATION

This year we have three exciting events planned: The festivities begin Friday with the dedication of the R. Gordon Gastil Room (GMCS-129) 4-6pm; the annual banquet social hour will begin at 6pm in Templo Mayor in the new Conrad Prebys Aztec Student Union, dinner at 7pm, followed by a brief presentation; then join us Sat., April 19th, for a commemorative Walawender/Gastil field trip to the Julian Eagle & High Peak gold mine with a BBQ following at Janet Gastil's Julian home.
The Annual Banquet buffet dinner will include grilled marinated tri-tip steak with grilled marinated portobello mushroom steak topper, grilled chicken breast, veggie stacks, tossed salad with dressing, red potato salad, BBQ baked beans, fresh rolls & butter, dessert, coffee/tea. There will be a cash bar from 6-8pm.
As a fund-raiser to partially fund students' banquet meals and other Alumni Association activities, we will have a silent auction in Templo Mayor that will conclude at the end of the evening. If you have any items to donate to the auction, please contact geoaztec@aztecmail.sdsu.edu. We sincerely appreciate your donations!
Templo Mayor is located at the southeastern edge of campus at the site of the old Aztec Center. Please park in lot "G" to avoid a citation, or take a trolley, the SDSU transit center is near the Student Union. Map attached.
For up to date information, see: https://earth.sdsu.edu/alumni/banquet 
CURRENT SDSU GEO-STUDENTS – At least 50 percent of your banquet fee will be reimbursed IF you make a reservation AND show up at the banquet!!! And, remember, SDSU geo-alumni may be your future employers (and are a great bunch of people to know!)
ARE YOU GOING? PLEASE LET US KNOW!
(this is just for our planning purposes, it is not the registration form)
SEE YOU ON APRIL 18!!! LAST YEAR WE SOLD OUT, PLEASE RESERVE EARLY!
BANQUET RESERVATIONS DUE BY APRIL 7th!!!
---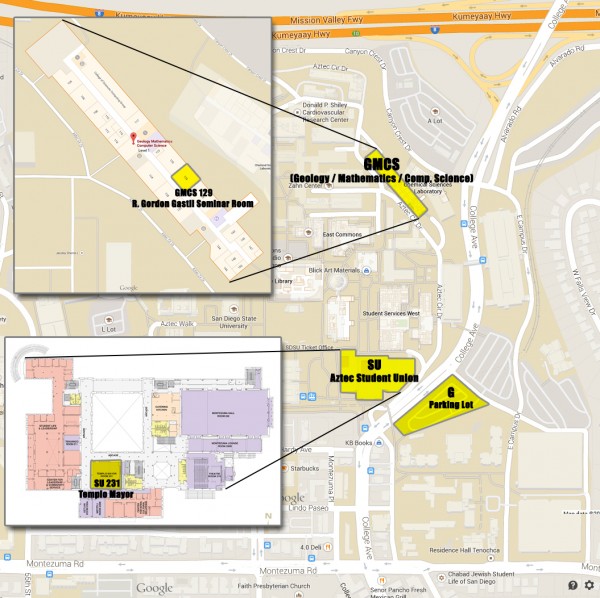 Additional Directions and Parking Inofrmation
http://www.dps.sdsu.edu/parkinginfo.htm
Interactive and Printable Campus Maps
https://sunspot.sdsu.edu/map/
Detailed Google Map
https://mapsengine.google.com/map/edit?mid=z3Nh65CZJ1zU.kuuferY71miM