SDSU's 2013 featured graduates are set to turn transformational college experiences into impactful careers.
COLLEGE OF SCIENCES – GEOLOGICAL SCIENCES
Karl Bloor, 28, M.S., geology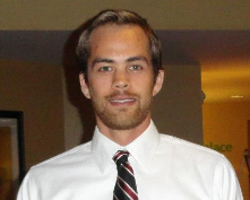 Karl Bloor is graduating with a master's in geology and will be accepting a job as a geoscientist for Chevron in Houston in June. As a geoscientist, Bloor will study the physical components of the Earth to provide research and development opportunities for the company.After moving to the United States with his family at the age of 12, Bloor, a New Zealand native, overcame financial struggles to achieve a better life for him and his family.
Not only did he manage graduate level coursework, he also operated his own construction company. Bloor quickly became a master of life management by balancing his work and a class schedule.
"I want to be able to support my family without the struggles that I grew up with," said Bloor.
While at SDSU, he excelled as a student leader. He served as president for the student chapter of American Association of Petroleum Geologists, was recognized by Department of Geology faculty and has been selected for several scholarships.
Source:
SDSU NewsCenter