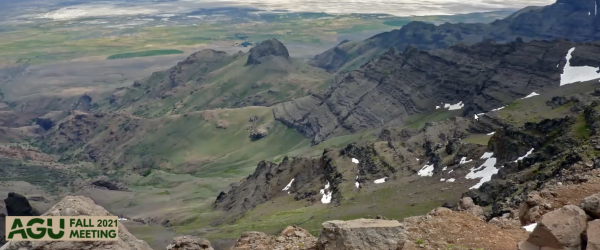 Several faculty and students are presenting posters and talks at the American Geophysical Union conference this week.
On Monday, David Kimbrough and his collaborators discussed a new method of using radiogenic argon in groundwater to date events and improve sustainable groundwater management, drawing on data from wells across southern California. Vic Camp proposed a two-stage scenario to help explain a geographic misfit between the Columbia River Basalt Group eruption and the Yellowstone hotspot from 17 to 16 Ma.
Barry Hanan and Sam Bova presented on Tuesday. Hanan is a co-author on a poster that examined the petrogenesis of Eocene flood basalts using Re-Os isotopic compositions of 30 Eocene flood basalts spanning six volcanic centers across the East African Rift System. Bova's project compared oceanic core data from Expedition 379T with data from terrestrial sites to propose an explanation for why groundwater near the Chilean margin had low oxygen and high dissolved silica levels.
Later in the week, Kim Bak Olsen's collaborators will present an application of the new CyberShake model, developed with the Southern California Earthquake Center, to data from the South Iceland Seismic Zone.
Be on the lookout for research from Tom Rockwell about the southern San Andreas Fault and San Jacinto Fault and Jillian Maloney's contributions to refining the radioisotope geochronology of the Mississippi River Delta Front.
On Friday, SDSU graduate student Guilherme de Melo will give an online presentation about the seismicity pattern along the large slow-slipping St. Paul multi-fault transform system.